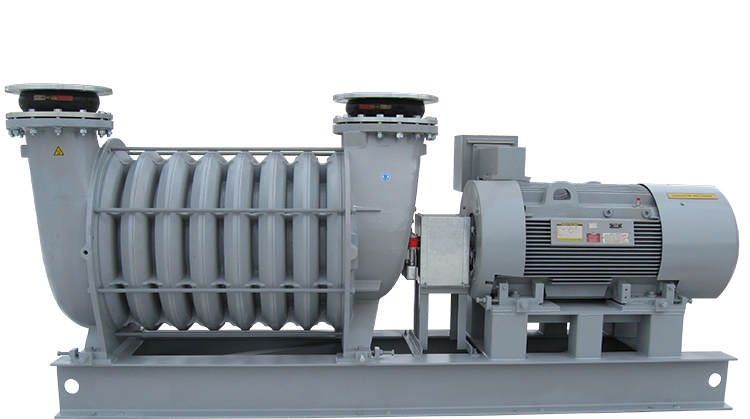 Universal Blower Pac also offers a full range of options, benefits and service for multistage centrifugal blowers with the quality that you've come to know and expect from  UBP.
>> Centrifugal Blower with options up to 22 PSIG & 34,000 SCFM
>> Premium absorptive silencers sized to maximum capacity
>> Inlet filter with weather hood
>> Heavy duty steel base
>> Check valve with EPDM seal
>> Flow Control Valve
>> Rugged flex joints
>> Custom motor specific to your needs
>>  UBP MAXControl Panel
>> VFD trim with floating set point surge control
>> Add ATTENU – PAC enclosure for silent operation
>>  UBP Legendary™ enamel paint
>> Instrumentation package
>> Surge Control
>> Direct Driven
>> Biogas coatings available
 YOUR PAIN
 OUR SOLUTION

Noise

FULL and PARTIAL SOUND ENCLOSURE SOLUTIONS.
UBP offers both standard and fully custom sound enclosure designs to fit exact system size and goals for noise attenuation. (see Sound Enclosure Brochure)

Complexity of controls

UBP MAXControl – SINGLE BLOWER TO COMPLETE SYSTEM INTEGRATION.
UBP provides a wide range of control solutions from single blower control to complete control suites that integrate your entire system. MAXControl allows for multiple blower, DO/ORP monitoring, multi-zone aeration control, and SCADA interface, all from a single weather resistant control panel.

Dimensional constraints

BLOWER SYSTEM DESIGNS RANGE FROM 50 CFM UP TO 30,000 CFM.
Engineered to meet the demands of a variety of applications and industrial processes while meeting your existing footprint and process connections.

Need higher efficiency

CUSTOM AND STANDARD EFFICIENCY DESIGNS AVAILABLE.
UBP engineers evaluate and recommend a variety of technologies and drive configurations to maximize efficiency and improve ROI.

Corrosive / hazardous environment

CORROSION RESISTENT EQUIPMENT AND PAINT OPTIONS.
UBP offers a variety of blower systems resistant to severe chemical, corrosive, or classified hazardous environments as well as high grade paint and numerous material options suitable for indoor or outdoor installations.

Uncertainty of needs / blower technology

LARGEST SELECTION OF BLOWER TECHNOLOGIES, MOTORS & FEATURES offered to meet exact requirements. Most manufacturers provide a single offering as a one – size – fits – all to your application. UBP has multiple blower and compressor technologies available and help you objectively compare possible solutions so you always get the best fit. UBP provides PD, hybrid PD, screw, high efficiency screw, regenerative, and multi – stage centrifugal blowers as well as fans and sliding vane compressors.

Quick response from sales and engineering

UBP ENGINEERS are integral to the design analysis through servicing of every project. We understand the public and private sector requirements and help you meet deadlines with detailed designs, specifications, and drawings.