Through the years, Universal Blower Pac has been called upon to partner with leading OEMs to create custom blower systems that not only increase performance and efficiency within the wastewater and industrial treatment processes, but also to engineer how designs can cut down on costs in the field during installation and planning for long term use and maintenance.
In this video, Jay Guio, lead OEM Sales Rep, walks through a unique custom system engineered for an OEM for a Fortune 100 Petrochemical client.  This design consists of three 150hp aeration blower systems and two 30hp air scour blower systems.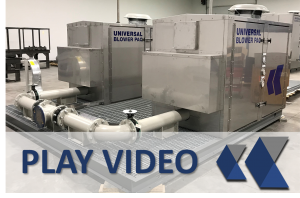 The air scour blower systems were designed with a shared sub base and a common header factory installed to cut down on time in field.  Additionally, cable trays were pre-engineered to also alleviate work time on the site.
Each system is designed with UBP's state of the art sound enclosures, made with 3/16 stainless steel to withstand harsh environmental wear and corrosion.
IEEE 841 motors are installed to withstand the severe process for the petroleum and chemical industry.  These motors are directly coupled to the blowers to additionally improve overall system efficiency and performance as well as increase the lifespan of the units.  This direct drive design provides the user 100% control over the system with use of VFD (variable frequency drive) and eliminates power transfer loss typically associated with a v-belt drive design making it 3-5% more efficient.  Maintenance time and cost is also cut down as tensioning and replacing v-belts is not needed.
If your plant is looking for a new or upgraded system to improve efficiency, performance and maintenance, call or email inquiry to discuss your system goals and requirements.