OSHA's hearing conservation program is designed to protect workers with significant occupational noise exposures in various industry sectors from hearing impairment even if they are subject to such noise exposures over their entire working lifetimes.  All employers are required to implement a Hearing Conservation Program where workers are exposed to a time weighted average noise level of 85 dBA or higher over an 8 hour work shift.
As a market leader in blower system engineering and manufacturing, Universal Blower Pac naturally understands this impact on plant managers and how best to control noise exposure for system operators. As a result, UBP has been providing state of the art sound enclosure solutions for a variety of blower systems and industrial equipment since 1979. We manufacture both standard, semi-standard and custom enclosures to help meet OSHA requirements on any budget, whether we provided the original blower system to you or not.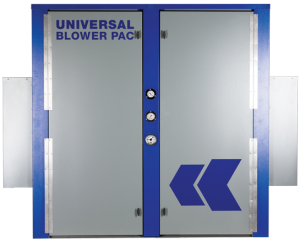 ATTENU-PAC: Full Enclosure, Standard Designs with Custom Benefits
The ATTENU-PAC is a full sound enclosure solution and comes in variety of sizes with various options. Choose from standard sizes, or engineers can make sizing adjustments to get exact fit.
>> Can achieve 25-30dBA sound reduction
>> Choose from hinged or removable panels with full doors on one or both faces
>> Designed with heavy 16-gauge steel combined with high density foam
>> Engineered for extreme weather conditions (heavy snow and corrosive environments). Treated with galvanneal and powder coated
>> Vent boxes remove direct line of noise
>> Door handles are designed with compression lathes to ensure tight closures and minimize noise escape
>> Extended oil drain options for easy maintenance along with 80% door coverage for easy access
>> Standard enclosures can be modified to fit on-site equipment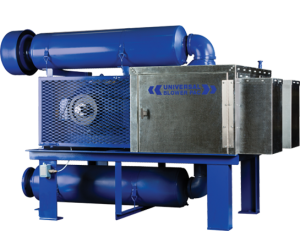 ACOUSTI-PAC: Partial Enclosure, Meet OSHA for 30% Less Cost
UBP has mastered the ability to reach acceptable noise levels with the ACOUSTI-PAC partial enclosure. This achieves up to 60% noise reduction of the ATTENU-PAC for 30% of the cost. The enclosure is designed to compactly fit around the blower, the loudest noise source. We then acoustically treat the discharge based upon frequency ranges to minimize the secondary noise sources.
>> Engineered with the same quality materials and options that the ATTENU-PAC offers, just smaller
>> Can achieve up to 15 dBA sound reduction to meet 85 dBA site requirements
>> Blower is fitted with oil and fill drain extensions for easy maintenance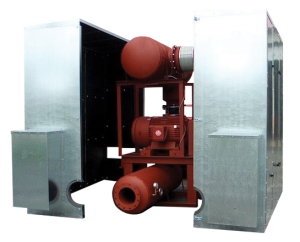 CUSTOM ENCLOSURES: Exact Fit for New or Current In-place Equipment
Our enclosures are designed to meet whatever difficult site issues, sizing, or specialty application desired. Enclosures can be designed to be lowered over existing equipment by forklift or crane or pre-built panels to be installed on site around the equipment.
Custom enclosures can be designed for any type of equipment or blowers from multi-stage centrifugal to direct drive designs. A variety of options of materials and specialty features can be requested: larger vent box designs for increased airflow, removable doors or roofs, clam shell design for full walk around access, and much more.
UBP Engineers are available for site visits to help advise on specialty sizing or installation issues and make recommendations on how best to achieve OSHA requirements for any equipment.