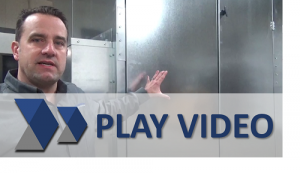 In this video, Ben Cross, P.E, Universal Blower Pac Sales Engineer, discusses the new High Pressure Hybrid Blower System.  This high efficiency system features Gardner Denver's RC3 CycloBlower, a new generation of high pressure oil free screw blowers with airflows up to 2,650 CFM, pressures up to 36 psi, and vacuum up to 22 inches of mercury making it is ideal for a wide range of applications including Wastewater Treatment, dilute and dense phase Pneumatic Conveying, Chemical Processing, Industrial Processing, Food Processing, and Plastic Molding and Handling.
This hybrid design is engineered with the goal of delivering a new level of efficiency and performance that will provide our customers with competitive advantages and energy savings they won't find in other blower systems. With energy consumption typically being the largest cost of ownership, UBP's High Pressure Hybrid Blower System can save thousands on energy bills, lowering your bottom line, and increasing profits.
As with all Universal Blower Pac solutions, this system can be engineered with flexible options and installation configurations to meet exact needs.