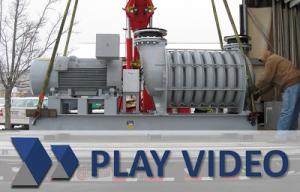 Through the years, Universal Blower Pac's customer care and service department has answered numerous calls concerning a variety of installation, operation and maintenance questions around best practices for handling blower systems.  With the goal of continuing to be not only a well respected blower system engineering and manufacturing provider, we are also consistently dedicated to meeting our clients needs at a deeper level for service, troubleshooting and repair.
As a result, our service team is rolling out a Blower System Maintenance video series to help answer the variety of standard operation and maintenance questions.  The series will include handling, installation, start-up, lubrication, typical troubleshooting tips and tricks, and much more.
The first in this video series is proper Unloading and Handling Procedures for Blower Systems.  In this video, we discuss the importance of checking thoroughly for freight damage that may occur during shipping and how best to capture and describe this on the Bill of Lading to expedite any shipping claims.  It is also important to note how best to lift the different blower system steel frame styles that Universal Blower Pac engineers for their systems.  This video clearly shows best practices for lifting an EXPII style base, a 3C-PAC or 3C-Hybrid base, larger multistage centrifugal or custom blower systems with sub-base fork lift slots or lifting lugs, and even how best to lift systems that come with acoustical sound enclosures.
If you would like to see a certain maintenance video walk-through, please email our service team at Service@universalblowerpac.com and we will gladly discuss adding it to our list.