Kroger Co.'s (NYSE: KR) K.B. Specialty Foods new anaerobic wastewater treatment system at its facility in Greensburg, Indiana is fully operational.  The previous wastewater treatment system in the facility was open to the air. The new system features a dome that captures biogas from food byproducts at the plant so the collected biogas can now be harnessed to generate electricity.
"This is one more step toward meeting our goal of becoming a zero waste company by 2020," said Suzanne Lindsay –Walker, Kroger's director of sustainability.  (Source: Kroger Co, 2016 PR Newswire)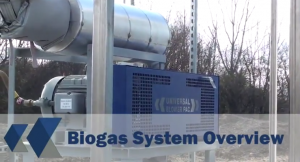 In this video of the biogas system overview, ADI Systems Process Engineer, Daniel Bertoldo, demonstrates how the new facility relies on a process called anaerobic digestion.  Microorganisms will transform the byproducts of food production into biogas, and that biogas is extracted and scrubbed for a source of renewable energy.  The electricity created will be sent to the plant's electrical grid.
KB Specialty Foods Plant Engineer Eric Behn said this investment "represents KB Specialty Foods' continued commitment to both the Greensburg community and energy sustainability."
The state-of-the-art waste water treatment facility was designed, built and installed by ADI Systems North America, an Evoqua Company. Universal Blower Pac engineered and manufactured the biogas blower system and hybrid blower systems for the sequencing batch reactor.