The 3C-Hybrid Blower System continues to make waves in the water and waste water treatment marketplace as a best in class, high efficiency system that is both affordable and delivered quickly.  This year, UBP  was thrilled to be one of the recipients for Water and Wastes Digest (W&WD) Top Project 2017 Awards for the water treatment plant upgrade for the City of Wheeling, West Virginia.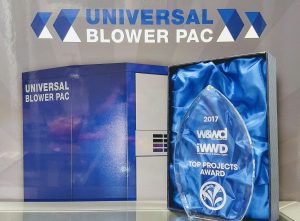 One of the biggest challenges for the contractors was meeting the city's tight budget. "Any rate increase presents a challenge for customers in a financially strained community such as Wheeling," said Craig Juday, P.E., project manager and vice president for CT Consultants Inc.  CT Consultants chose UBP  to customize the 3C-Hybrid blower system to meet the plant's requirements and budget.  'As a custom blower manufacturer, we offer designs our competitors don't or simply can't provide,' says Jay Guio, UBP  OEM Sales Representative. 'This often times leads to a more efficient system for the end user.'
Mike Rice, the Maintenance Foreman for Wheeling's plant, commented, 'Our previous blowers were from 1964. They were very inefficient and parts were hard to find, some we had to make.   With the new 3C-Hybrids, we have noticed a higher energy efficiency since installation, less noise and easier maintenance.  There has been no issues with these units and working with people in your parts department has been a breeze.'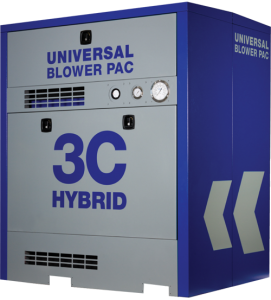 UBP  thanks all the contractors and consultants involved in the project, and a big congratulations to the City of Wheeling for demanding excellence in providing quality drinking water for their community.
To download a data sheet for the 3C-Hybrid, please visit our Resource Center.
To read more about this Top Project 2017 award from Water and Wastes Digest, click here.