This month, Universal Blower Pac is proud to celebrate and honor the dedication and service that Chris Schneider, our Senior Estimator, has provided to our clients for 30 years strong. Chris is 'an encyclopedia of equipment knowledge and knows product details inside and out,' says Natalie Menke, President of UBP.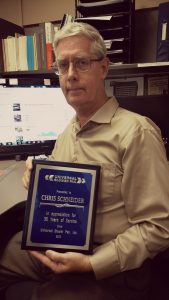 It's not discussed often, but getting a clear understanding and helping our clients to ask the right questions about their exact equipment needs from the start is many times what separates UBP apart from the competition. Avoiding surprises and clarifying expectations takes skill. It's the combination of engineering knowledge, eye for detail, and 30 years of knowledge from thousands of world-wide UBP installations that Chris brings to bear when evaluating system quotes.
Not all blowers and systems are the same. A value add that our clients receive during the quoting process at UBP is that we provide value engineering analysis and recommend comparable options within our quotes from the start. Sometimes specified manufacturers require ancillary equipment unnecessary for Universal Blower Pac's system requirements. Calling out exceptions often saves hundreds, or in some case, thousands of dollars in equipment or controls which don't apply to our equipment. Chris points these items out during his initial spec review and additionally provides approvable specs up front that often lead to more competitive pricing for our valued customers.
Getting the job right from day one for our customers is key. When it comes to estimating and quoting equipment, you are in good hands with Chris.