As m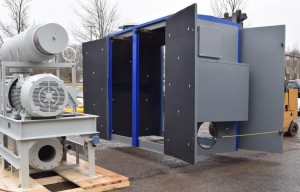 any cities around the country face new state and federal standards that demand higher regulations for their municipal facilities, the City of Kirksville, Missouri Wastewater Treatment Plant prepares to undergo new improvements to ensure compliance with the tougher standards.
The plant improvements have three major phases including headwork's and flow control, biological treatments, and solids handling with a total cost for the project around $18 million and began in the spring of 2015.
The engineer of record is HDR Engineering. The general contractor awarded the project is River City Construction. Universal Blower Pac's representative is Ressler & Associates.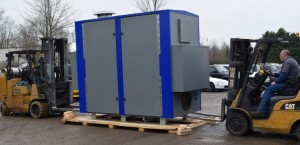 Universal Blower Pac is providing five tri-lobe blower systems to service the post aeration basins.
SOLUTION PROVIDED
Each blower provides up to 2560 SCFM at 10.5 PSIG on a VFD. The tri-lobe blowers are direct coupled with 250HP motors in ATTENU-PAC enclosures.
EXPECTED RESULTS
Direct drive design provides up to 5% energy savings versus v-belt driven blowers at the design point
Direct drive design eliminates belt maintenance and replacement
Up to 60% energy savings due to VFD control versus a constant speed system
Up to 25 dba noise reduction with the ATTENU-PAC full enclosure design